A gist of the GM mustard conversation organized by Greenpath Organic State and Karnataka Alliance For Safe Food.

In his book "Coming Home To Eat", ethnobiologist and agro-ecologist Dr Gary Paul Nabhan writes about explaining his work as a seed saver to his cousin in Lebanon, when his cousin asks him the following question – "But one thing we didn't understand it, well because all of us, we save seed for family gardens here. Gary Paul, how come they pay people to be seed saver?"
What does this have to do with the title about GM foods? Don't worry; it's not a click bait. This profound question about saving seeds tells us something even more profound about the food dialogues we are having. We cannot be talking about food from singular perspectives. One man's seed is another man's food, and rarely are they both present in the same room discussing the effects of a move that involves them. Last Sunday, I attended a panel discussion on GM Mustard. Organised by Greenpath Organic State and Karnataka Alliance For Safe Food; the panel included eminent people across different fields, united by a mission to throw some light on the complexities of GM Mustard, and GM foods in general. Here are some snippets from that discussion.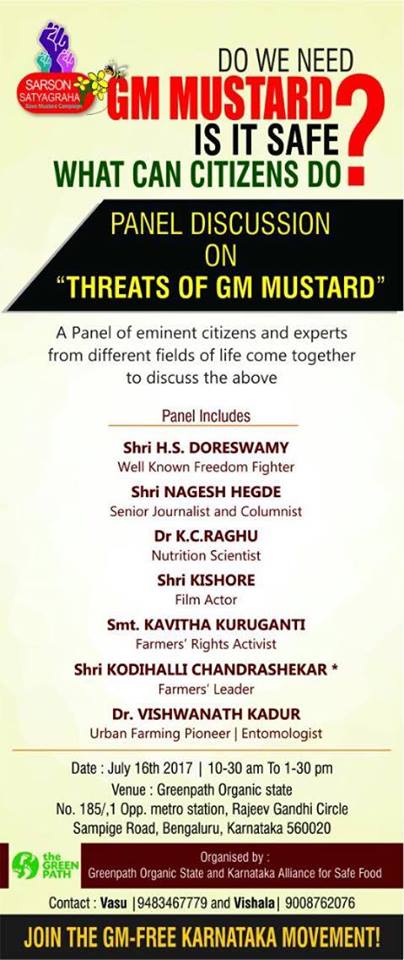 Nutrition Scientist, Dr K.C Raghu opened up the panel weighing in on the debate from a technology vs. implementation point of view. He explained how science and technology are not wrong, and genetic engineering has contributed a lot when it comes to finding ways to combat diseases. "Instrumentality of science for narrow perspectives is what is wrong," he added.    Dr Raghu added that we need to balance nutrition on our plates and not necessarily tamper with it at the agricultural end of the spectrum. His advice was stemming from the simple fact that we have ample nutritionally rich products around us to give us what is required. In short, instead of altering genes, we just need to alter the constitution of our plates.
Renowned journalist Nagesh Hegde who has written extensively about science and environment spoke to the audience next. Referring to the issues that have cropped up after the introduction of BT Cotton, including the "Pink Bollworm" attack and the reduction in yields, Mr.Hegde emphasised that India's native cotton has been reduced. "Destroy farmers in India, and you destroy the country," he said.  Mr.Hegde also went onto explain that weeds are a part of the ecosystem, and introducing herbicides to destroy weeds tampers with that fine balance that is inherently created. In fact, many people are employed to remove weeds, he elaborated, adding another layer of balance which will be affected by the introduction of GM mustard.
Farmer, Karnataka Rajya Raitha Sangha leader Shri Kodihalli Chandrashekar's words echoed the collective sentiments of all farmers affected by BT cotton. As he talked about farmers burning fields and being devasted by the lack of any yield, his underlying question was simple- who will respond to the farmer's woes when everything fails? In the case of cotton, he added that farmers did not have access to other varieties of cotton seeds and were left with no options. A situation, which I am sure no farmer wants to face, GM or no GM.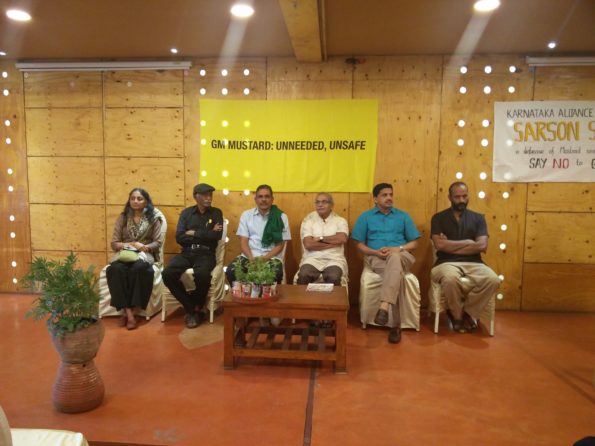 Actor/Farmer Kishore chose to speak as both and as a concerned citizen. He emphasised that people who raise their voices against these issues are categorised as environmentalists or activists- but the fact of the matter is that we are all impacted by these decisions, and we all need to raise our concerns. "Each seed has a culture ingrained in it," Kishore said. There are traditional farming practices which are a part of each seed's world, and when control over seeds is lost, so is that knowledge- he elaborated. He added that it is essential to preserve local varieties and ensure that the seeds are available to farmers. As we lose seeds, we also lose our fundamental knowledge about agriculture, he insisted, going back to his earlier point. "Nobody has the right to do that".
Dr Vishwanath Kadur, agriculturalist, entomologist and the man behind the many terrace gardens in Bangalore added to Mr.Kishore's request to maintain local varieties. Dr Kadur expressed his dismay by projecting the GM mustard question not only as a technological one but also an ethical one. "Science needs to be ethical"- he reflected. In his own pursuits to grow local varieties, he shared, he found it difficult to obtain seeds. He added that many concerns which genetic modification aims to address could be addressed by our existing varieties, and this so called modification, he insisted,
is not needed.
The last person to address the crowd was Kavitha Kuruganti, founder of Mahila Kisan Adhikar Manch and convener of Alliance For Sustainable and Holistic Agriculture (ASHA). Kavitha opened her talk by mentioning that she has been in this GM battle for 15 years, and she added that her journey has been "exhausting" and even "corroding". People often view these battles as activism and consider the fight to be the main goal. As Kavitha pointed out, she would much rather have people work at the grassroot level coming up with practical alternatives to the many problems farmers face. The battle, however, she stated, has to be fought. "How did we arrive at this stage where someone can decide how much seed, which brand, and in what quantity are farmers supposed to get?"- She questioned. Kavitha requested that agriculture is looked at holistically and policy decisions are made with some foresight. In the GM mustard case, she pointed out that along with farmers losing control over what they choose to grow and control over what goes into their soil, the move will also affect crores of women who are employed solely for removing weeds manually. Employment at a scale you cannot simply replace with another activity. "People getting together and asserting themselves has brought up change." – Kavitha said as she requested people to raise their concerns and collectively ask for change.
I realise that this post does not have very specific data pertaining to GM Mustard. You will find a lot of that online. My aim here has been to show the invisible ecosystems that this move would disrupt. Now does the quote at the beginning about saving seeds make sense?Looking beyond this technology and what it simply translates to, attending this discussion made me realise that there is a lot more at stake for the farmer, and for the consumer. For more information, read this article about Kavita Kurungati's talk on the issue, this article on Bt Cotton and visit this site on GM Foods.
Similar posts which may interest you.