Creating happy farmers and consumers.

When food innovation meets rural development, you get a venture like Happy roots, which makes the act of healthy snacking a lot more profound.
Reema Sathe, founder of Happy Roots and recipient of the Nari Shakti Award talks about making food that benefits the producers and the consumers.
A Chemical Engineer with a management degree from IBS Hyderabad, Reema spent her corporate career working in the hospitality and food manufacturing industry. After a successful corporate run and an impending promotion around the corner, Reema says it was the same old question of "What Next?" which made her take a turn towards creating an enterprise that gives you the opportunity to snack on socially conscious food.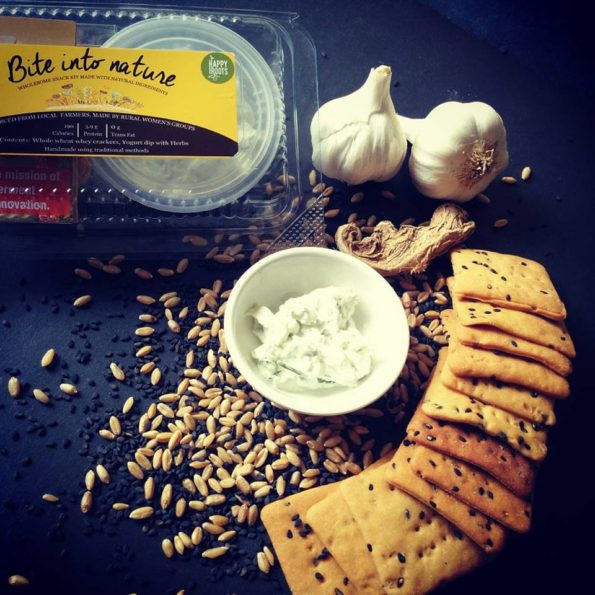 " There comes a point in your career when you think- what should I do next? That's the point I had reached in early 2014. Along with my corporate job I had started volunteering during the weekends at a social enterprise in Mumbai. The enterprise was working with private farmers in Gujrat. That was my first exposure to the field of agriculture, and over a period of time, I could see that this was my calling. The knowledge I gained in my corporate career of 8 years- I was able to put to good use. It was making a difference for people who really needed that support. "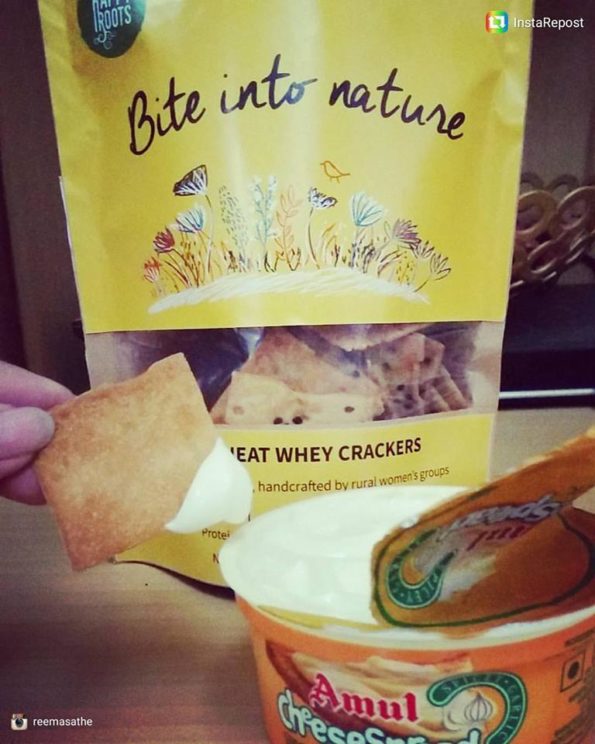 After a year of volunteering, Reema quit her job and founded Happy Roots. So what is Happy Roots?
"Happy Roots is a food company which is a social enterprise. Whatever we do as a larger food brand- we put farmers and the rural women at the heart of it all. Though we manufacture and market healthy snack food products, we are doing a lot of work in the background related to farming and rural development."
Reema elaborates that through Happy Roots, she is creating a food chain which is 50% owned by the rural community. By involving farmers at the decision-making level, Happy Roots is able to focus on high potential grains. "If you look at the snacks available on Happy Roots, they have a unique combination of grains, which are of local origins. Our main goal, when we started working on these recipes was that they should involve the lost grains of India."
Whatever we do as a larger food brand- we put farmers and the rural women at the heart of it…
Click To Tweet
Not only does Happy Roots work at reviving these indigenous grains, but they also train the rural women to manufacture high-value snack products. Happy Roots provides support by handling the marketing and the distribution of these products.
Stop by the Happy Roots website and their Instagram page and you will find products like Buckwheat Gingersnaps, Amaranth & Flax seed cookies, and rice varieties such as "Ghansal" which is native to the Kolhapur region in Maharashtra. This rice variety, in fact, has a GI (Geographical indication) tag. The team also provides raw material support for small scale food manufacturing companies, thereby ensuring that the excess harvest finds a suitable market.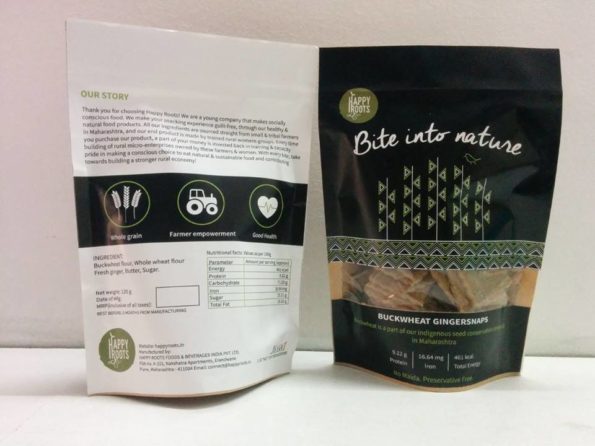 Happy Roots currently works with about 15,000 farmers and 2000 rural women in Maharashtra. They cover districts such as Amravati, Akola, Yavatmal, Satara, Kolhapur, Ahmednagar and Kolar. Many of the farms they work with, Reema emphasizes, are in drought affected areas.
Reema shares that the consumer response for the Happy Roots products has been overwhelming, and in making these products the team also realized the value of consumer education. "When we started selling in Mumbai, we would showcase products at exhibitions. People took an instant liking to the snacks but were not aware of the grains used in making them. People did not know what a finger millet or amaranth looked like. We started displaying the grains along with the products. Having never seen the ingredients, consumers felt strongly about the fact that the products which they purchase extends support to local farmers in some way. The snacks we manufacture are different, but somewhere because we use these native grains, consumers are able to relate with the taste nostalgically. "- she adds.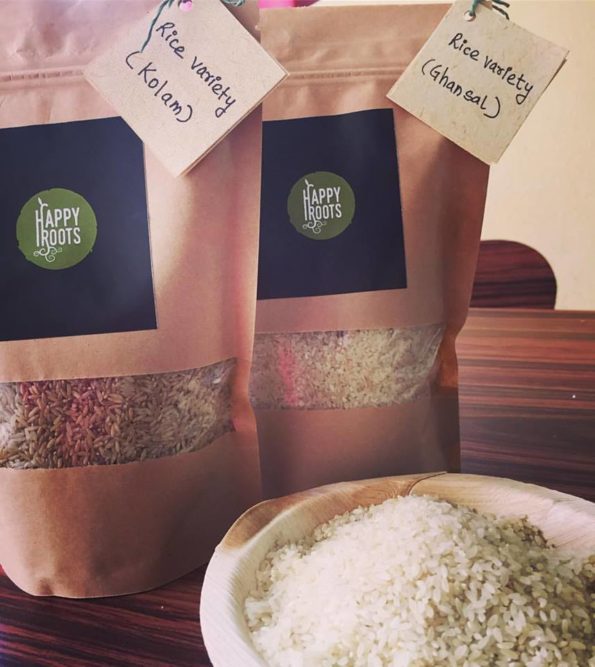 Reema says that it is important for consumers to look at where their food comes from. Farmers, she elaborates, stopped producing crops like Buckwheat because there were no takers for them. "Buying local produce is not the only thing that matters. It is also important to know if the source is one that benefits farmers as well. Are you trying to make your money find its way back to the person who grows the food? All food companies talk about consumers. Are we talking enough about the farmers?"– she asks.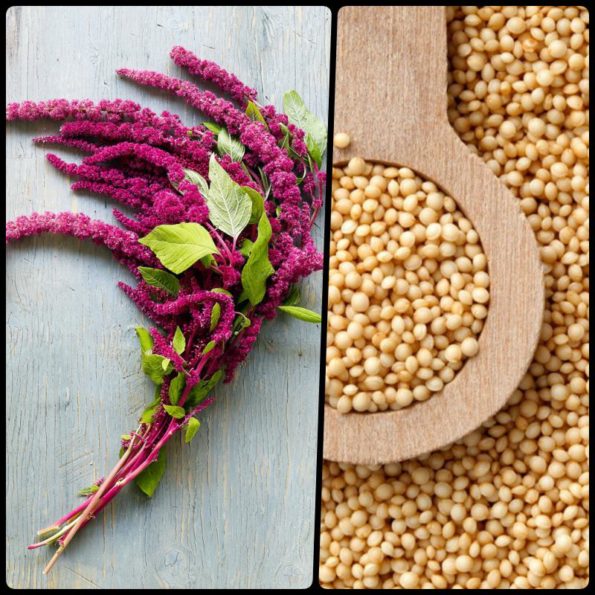 Reema Sathe is the recipient of the Nari Shakti Award, 2016 for her contributions to rural development. Receiving this award from the President on International Women's Day, Reema shares that the award is a huge honor and her biggest milestone till date. She also adds that receiving the award definitely made more people aware of the work Happy Roots was doing.
Reema hopes to implement the Happy Roots model across various states in the country, and she has already begun working on the same. Happy Roots products will be available on Amazon soon for delivery pan India.
As we wrap up the interview, Reema adds as an appeal to consumers to reach out to organizations that support farmers and rural women. "It is important," she emphasizes, "that consumers consciously buy these products that have a bigger impact on the society. Only with deliberate choice is a meaningful change possible," she states.