Building "Happier Himalayan Villages"
I find ideas for The Yellow Turmeric in places where I least expect one.
Recently, while travelling to Chennai in the 6 am Shatabdi, a very sleepy me found myself browsing through Outlook Traveller, when I came across the names "Bakri Chhap" and "The Goat Village". As I looked over the images of solitary cottages against a backdrop of scenic views, it felt like an ideal vacation spot. On reading a little bit about the " The Goat Village" and  the "Green People", I realized it's so much more than that.
"Happier Himalayan Villages," says the tag line on the the Green People website. The Goat Village and Bakri Chhap Natural Himalayan Produce are both initiatives under this umbrella of the Green People organization and represent their tourism and agriculture vertical respectively. At the heart of these initiatives is one common goal and this to create –"sustainable eco-systems, which provide alternate sources of income for village dwellers without straining their existing resources." I spoke to founder Rupesh Kumar Rai and P.K. Singh– Director, Special Initiatives about recreating villages and promoting reverse migration.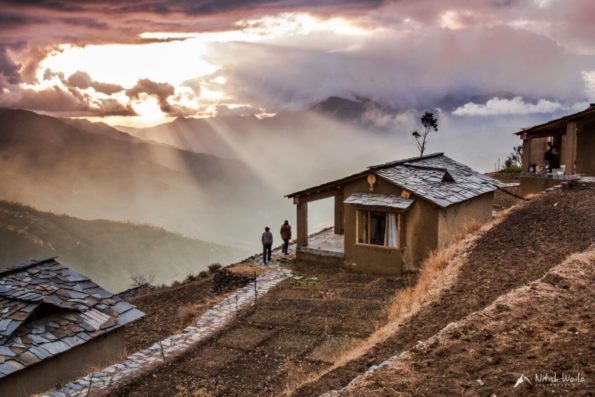 Having personally witnessed the aftermath of the 2013 floods in the Uttarakhand region, Rupesh felt the need to make changes which would help the local communities build their lives better prepared for such calamities. He observed that many villagers were leaving their traditional homes and their farms in search of opportunities in the cities or at tourist spotlights. Their family homes in the villages, he emphasises, are built to withstand such disasters as opposed to the modern buildings. "There are several ghost villages in these regions. 15 to 20 generations sometimes, even more, have lived in them. Now they are all empty."
Instead of adopting a village,  "Green People" decided to build one. They also decided on building the houses using Koti Banal form of architecture– making the structures resistant to earthquakes, common in these regions. "At the beginning of the project, very few people knew this form of construction through and through. The masons who worked on it are now in huge demand and have gone on to transfer this knowledge to other people as well."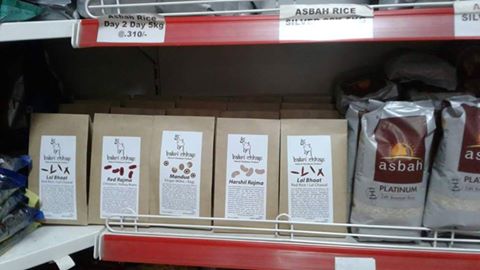 Situated at the midpoint on a popular trekking route to Nagtibba, this first "Goat Village" was also built in a region which, about two decades ago, was the hub of vegetable farming. "We found that many youngsters from the villages around had lost interest in agriculture. We realized that simply building resorts or home stays is not going to get these villages enough attention. We needed to create ample opportunities for the villagers and showcase the agricultural bounty in these regions.", Rupesh shares.
While the team did build other villages near Kanatal and Uttarkashi , they also began growing organic produce in these locations. The products are sold under the brand name "Bakri Chhap". "The local communities here always practised natural forms of agriculture. But people were slowly quitting agriculture as they were not getting enough returns. In our resorts, we showcase the local produce by incorporating them into the meals. There are also chefs interested in promoting farming in these regions, and they buy produce from us. Our B2B clients include Marriot, Leela, ONGC, Crowne Plaza among others. The chefs also educate consumers about the products and their origins." -says P.K. Singh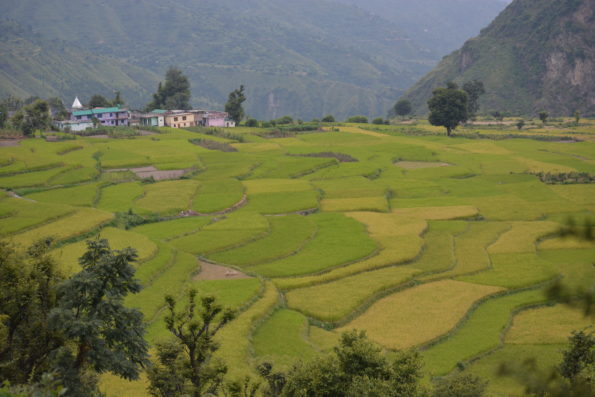 Bakri Chhap products include cereals like red rice, Himalayan white rice, Sanwa Millet and Amaranth. They also sell pulses such as Red Kidney Beans, Himalayan Soybean and spices such Himalayan Red Chilli Powder.
"One of our main objectives with Bakri Chhap is to improve market accessibility for farmers. That's why we often say, "Chhote Kisaano ka Bada Brand – Bakri Chhap". Before Bakri Chhap, one of the biggest challenges for the farmers was travelling long distances to find the right market. Even then they were not getting paid enough. Bakri Chhap opened 'Collection Centers' which would aggregate produce from about 20-40 nearby villages.  We also set up "Mobile Collection Vans" for villages situated in remote locations. Through this system, we are able to provide farmers returns which are much better than what they would get in traditional markets.We have been running this model quite successfully for a while now, and it's just a matter of time before we can scale it up to any region or state. We hope to ensure demographic and ecological balance this way."- the team shares. 
While many people consider the Goat Village an ideal place to get away from the everyday humdrum, volunteers from all over the country and from universities abroad, have also shown interest in their activities. "Volunteers not only participate in our day to day activities, but they also provide ideas to help us function better. Many youngsters in the villages used to consider farming or working with cattle below dignity. The volunteer program has definitely had a positive influence on them. When they see people coming from other places to learn organic farming or contribute to what we do here, they realize the importance of our work.", the duo share.
The team also provides skill development opportunities for farmers and students in these regions. Through CSR outreach programs, they are trained in the hospitality industry by leading organizations such as Ananda and Intercontinental. Along with agriculture, the team is also working on ways to promote local snacks and quick bites. Some of these ideas are tried and tested on a small scale at the resorts to gauge interest.
One thing is for sure though; the team does love quirky names just as Bakri Chhap itself. When they talk about the snack ideas you hear names such as "Healthy Ram snacks", "Kismet Ke Laddoo"- which is an Indian take on fortune cookies, and "Lallan Chai Bhandar".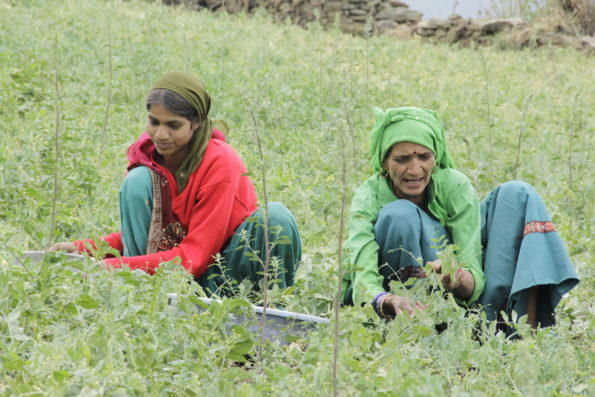 Speaking of quirky, the Green People organization is also famous for its "Goat Swayamvar" which was conducted in February this year to promote goat rearing and to make the villagers understand different breeds. Rupesh talked about how organizing an offbeat event of this nature along with the Animal Husbandry Department was important. "Goats play a huge role in the ecosystem here. We were observing a massive deterioration of breeds and a decline in the cattle rearing culture, The "Swayamvar" did catch people's attention, and it helped us bring these issues to centre stage."
The amalgam of ideas at Bakri Chhap and the Goat Villages leaves you inspired and humbled at the same time. The team shares that they are never short of ideas, but it takes them a lot of effort ( funding too of course) to put the wheels in motion. With time, they hope these villages will be teeming with people looking for a more balanced life.
For more information visit Green People and Bakri Chhap.
Similar posts which may interest you.