Let's eat more cheese!

You know you have come to the right place when you find a customer walking in at the same time saying they came all the way to buy some cheese because they heard so much about the product. Finding a cool corner in Chennai is often the endeavour. But this cool place is dairy scented and makes you move your cheese preferences from aisles in the grocery store to an artisan product worth the commute. Meet Käse Cheese- Chennai.
Founders Namrata Sundaresan and Anuradha Krishnamoorthy have been friends for over a decade. Namrata has a consulting background and runs her own company while Anuradha runs an organization called "Can Do", which helps differently-abled people with job skills. So how did cheese come into this equation? Between patiently answering a new customer's query on artisan cheese and giving instructions for a fresh batch, Namrata took the time to tell me about their other entrepreneurial journey which is getting Chennai to notice cheese.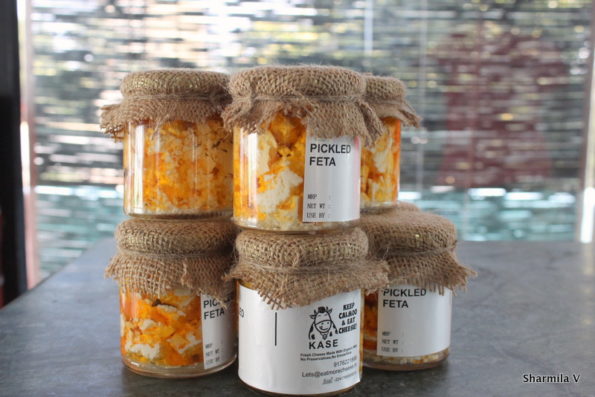 "I learnt cheese making on a vacation in Coonoor quite sometime back. It was a three-day course, and I had learnt how to make a couple of soft cheeses like feta, mozzarella, halloumi etc. This was in November 2015. In January 2016 I was talking to Anu over coffee, and she wanted to know if I could train some of the girls in her organization on baking skills. I have had my experience with commercial baking, and it is very different from home baking. I felt that this might not provide them with employment opportunities in commercial bakeries. Instead, we decided to teach them cheese making. In May 2016 we had a trial run. We worked with three girls who have hearing and speaking disabilities and trained them on cheese making. Over a week we made about 5 kilos of cheese which were then made into different things. We invited friends and family over to try everything, and we got an excellent response. This got us thinking that we are on to something here. "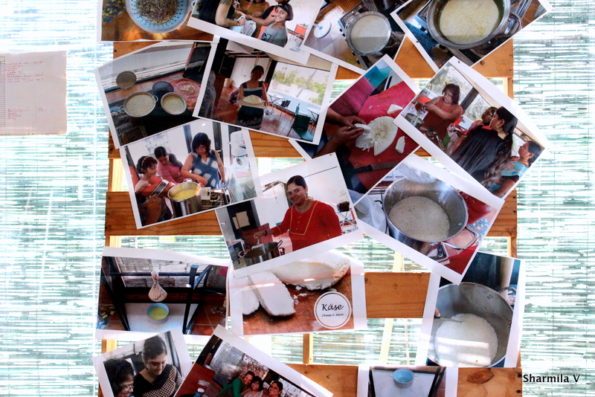 Namrata adds that while this training exercise sparked the idea for a cheese venture, the team decided to chalk out a few details before opening shop. "We were very particular about a couple of things. We wanted the artisan cheese brand. We also wanted to work with suppliers of milk who had grass-fed cows, and animals that were not treated with antibiotics. The cows had to be free grazing. These were limitations for us because it meant we could not just walk into a store and buy milk and use that milk. That's when we started hunting for potential suppliers and found a few. We had to narrow it down to the ones that worked for what we had had in mind."
In just two months they received a call from Markets by Karen Anand asking if they would be interested in being a part of their event. "What is still surprising for us is that how did they even hear about us? We had never been covered till then. That in many ways was the actual start for us. We did not have any idea about how these events work, and in some ten days, we made about 100 kilos of cheese. We also made dips and desserts, and we are selling them at this farmer's market."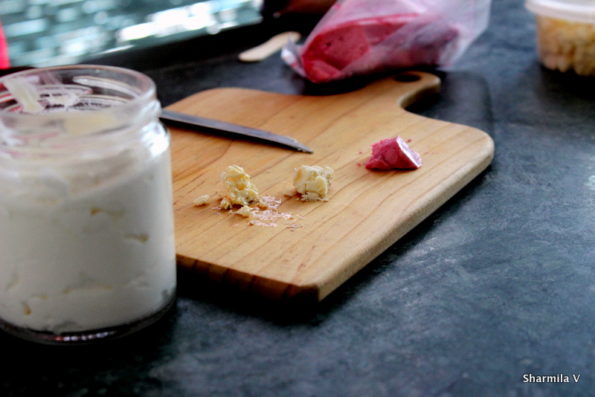 Namrata shares that this event was a valuable experience and helped them get the word out. The team since then has participated in several events and has also conducted pop us at their store/manufacturing facility in Chennai. "Events give us face time with our prospective customers, and it also helps in spreading the message. People pit you against either the imported cheese or the normal processed cheese. Though we are very competitively priced the important thing for us is to increase awareness. We are not conventional-we do a plain feta, we do a pickled feta, we do a beetroot, roast garlic, infused feta. Flavors have evolved because we wanted to experiment, and also the idea being how can you use cheese differently. It's a good source of protein and good fat, and we hope that people gradually move away from processed food."
Namrata adds that making cheese in Chennai's climatic conditions meant finding interesting ways to prevent spoilage and keep the ageing in control . Käse ensures that they use only natural ingredients for this.  "One such experiment was our "mulaga podi cheese"– a young cheddar which was crusted with a spicy flax seed mulaga podi. This became such a big hit that it was supposed to be a one time flavour but we keep getting requests for it. I call this our ode to Chennai. That's the reason we have these quirky flavours. "- she adds laughing. Similarly, they also have "Crunchy Caraway" and "Cumin Meets Thyme" among other unique flavour combinations.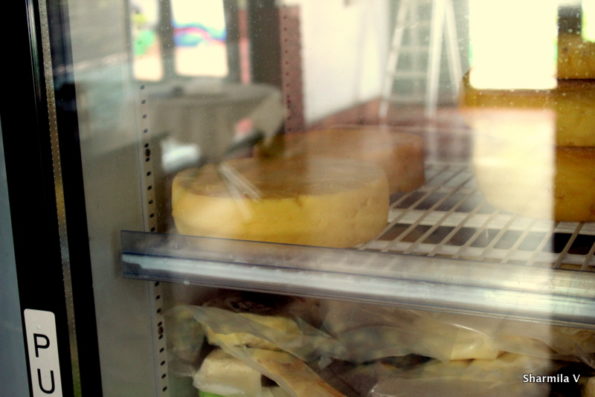 The Käse team today consists of seven people including three girls from the "Can Do" organization. As they grow, Namrata adds that she would like to continue training and employing 70% of their staff from the same. " We don't want people to think they have to choose our products because of the social angle. This is why we don't talk much about our team members. At the end of the day, it's food we are making, and we need to sell the qualities of that food."
Consumer education, she adds is a challenge for the team, which they recognized early on. Their way to counter it was to create this space where consumers can walk in, talk to the makers and understand how artisan cheese is different. In their first year, Käse stayed away from retail to facilitate this consumer interaction. With increasing demand for their products, their cheeses are now available at two stores in Chennai. Expansion plans are definitely on the cards, Namrata shares- "We just completed a year, and we have got very good coverage in the media. We want to go to Coimbatore, Bangalore, and Hyderabad probably. We are thinking one city at a time."
Namrata says that more than the food, they consider their journey to be a movement which she hopes will help more people make the right food choices. She adds that there is a palpable increase in interest for artisan products, and growth should be for the right reasons- "Growth is something which is very controlled. If you are talking about being sustainable, you cannot grow exponentially. As long as we understand that and we follow it, our growth will be small but steady. "
I wrapped up the interview and moved to tasting area where Namrata had set up different cheeses and dips for me to try out (lucky me!). In all honesty, you will be surprised by the multitude of flavours cheese can bring to your palate. If you don't believe that, you might want to check out Käse yourself. Visit their website eatmorecheese.in for more information. Let's say cheese and mean it.
Follow their Facebook page for updates on events.
Similar posts that may interest you