How this family run ice cream store is standing the test of time.

The last few days in Bangalore actually scream a steaming hot cuppa more than a delicious scoop of ice cream. But my curiosity got the better of me. I stopped by Malleshwaram to take a peek into this ice cream parlour which has been standing tall for 24 years and is completely run by family members. Meet Amrith Ice Cream.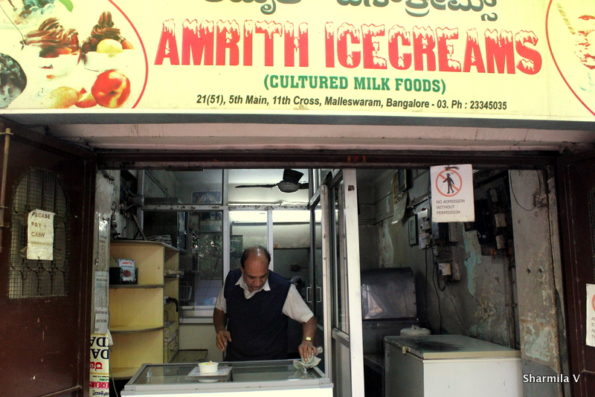 When I walked into the store Mr Ramapriyan, his wife and sister were all on their coffee break, sipping hot coffee from steel tumblers. The store/ manufacturing facility is an old house that has been slightly altered to make room for its renewed purpose. The flooring is brick red, and the windows remind me of my grandmother's house in Chennai. A place where summer vacations meant a measured dose of ice cream and mid-morning siestas on a similar floor with the hum of a rickety ceiling fan in the background. They welcome me in just like you would be welcomed into someone's house if you stopped by for a visit.A warm, friendly welcome.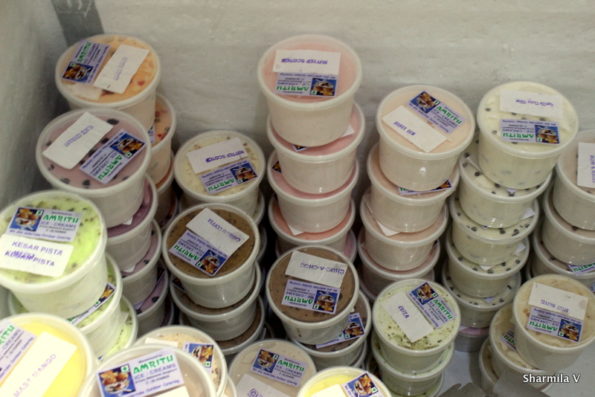 Amrith ice cream was established in 1993 by the late MN Sarathy, who worked at the National Dairy Research Institute. He learnt ice cream making from Denmark and specialized in ice creams and milk sweets. His son, Ramapriyan today runs the store with his wife, sister and the support of his 78 year old mother, M.N. Padma. "We are all in this together," he says.
Nestled in 11th cross, 5th main Malleshwaram, this ice cream shop is aptly ideally located between two schools. Ramapriyan shares that their shop is often the pit stop for school children on their way home. Despite the cold weather I saw a bunch of school children (and parents if I may add), stop by for a bite of kulfi. Along with ice creams, the shop also sells the popular kulfis and milk candies which are priced at Rs 10 and Rs 5 respectively. Amrith also has its custom made badam milk powder and jamun mix. These recipes were developed by his parents, Ramapriyan adds proudly.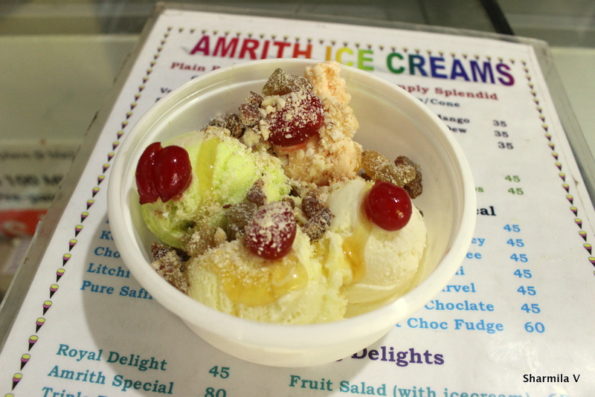 His father's innovation is also seen in the ice cream flavors. Amrith has the standard flavors like vanilla, strawberry and butter scotch. But they also have their in-house specials like the Manoranjini, Fig-o-Honey and the Amrith Special. Ramapriyan adds that the popular flavors are Fig-O-Honey and the Manoranjini. He shows me the various instruments they use to make the ice cream. The pasteurizer, the homogenizer, the ice cream churner and deep freezers. They can process between 40 and 50 litres of milk in a day and the typical time to prepare one batch of ice cream is three days. He adds that they vary inputs based on demand, and having run this business for years, they can easily predict the quantity and the flavors that they need to keep in stock.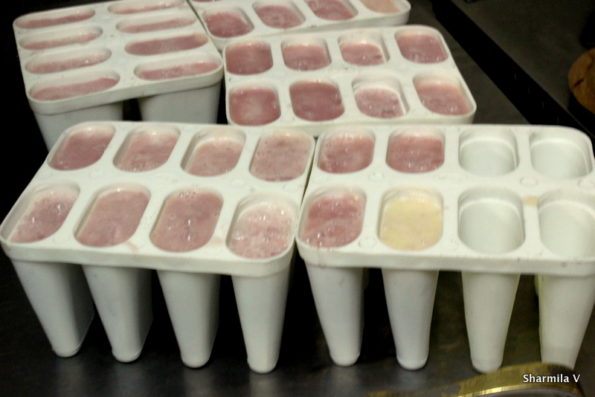 Having a tight control over the whole process and their familiarity with the consumers translates to a production with minimal wastage. Ramapriyan adds that most of what they make is sold in 2-3 days. I ask him what does he think is the biggest obstacle for any food venture and pat comes the response that it is labor. Amrith, he adds, runs on the dedication of all his family members and their hearts are in everything they do. Such an emotional connection cannot be expected otherwise. Customers, he shares, often tell them that they are never afraid to give their children ice cream from this store. It is this credibility that he values, he adds.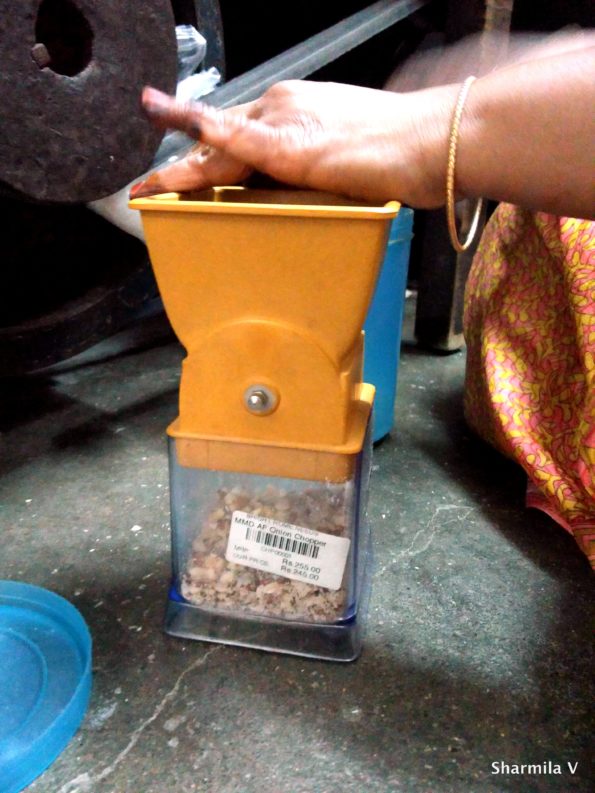 I am offered a bowl of the Amrith special which includes one scoop each of the Manoranjini, vanilla, litchi, and butter scotch and is generously topped with honey, nuts and cherries. The ice creams are delicious no doubt, and they melt away even before you realize it. The Manoranjini is unlike anything you might have tasted so far in ice cream flavors. As I walk around the house, the women are busy sealing fresh packets of the badam milk powder and chopping nuts for roasting a new batch. With no big flashy labels and no social media presence, Amrith seems to be standing still among changing times. Ramapriyan shares that newspapers and a local TV channel have visited their ice cream facility. Everything has been through word of mouth, so much so that people travel across Bangalore to get a bite of their ice creams.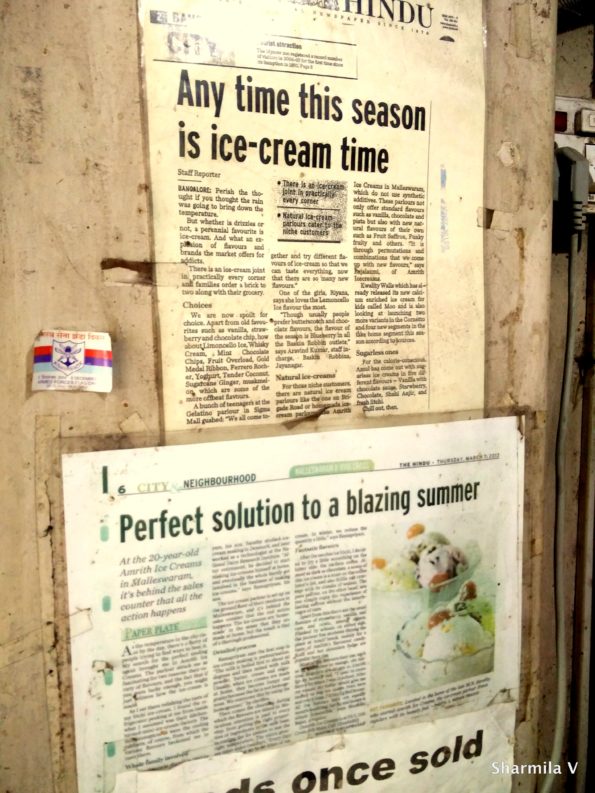 Entrepreneurial conversations often hinge on adapting to changing consumer preferences. Talking to someone who believes in keeping things as they are is more than refreshing. It reminds you that a good food business boils down to a good product and that's all that matters. Even plummeting temperatures will not stop people from grabbing a scoop of ice cream if that's the case.
Visit Amrith Ice Creams at 21, 11th Cross Rd, Malleshwaram West, Bengaluru, Karnataka.
Similar posts which may interest you.