#Letsmillet #NextGenSmartFood
This weekend in Bangalore city is not about watching a movie, Netflixing through the day (and night?) or finding a new restaurant. It's about millets and making smart food choices. It's about the Organics & Millets 2018 International Trade Fair.
There is no doubt that millets and organics are the latest buzzwords when it comes to food. In a research article discussing the consumption and cultivation of millets in India, published by the International Journal of Marketing, Financial Services & Management Research I found this old Kannada saying about millets which shows us how prevalent they were in our diets at one point of time.
"The rice eater is weightless like a bird; the one who eats Jowar is strong like a wolf: one who eats Raagi remains 'nirogi' [ illness free ] throughout his life. "
Millets not only provide us consumers with a healthy, gluten-free grain option but they are also beneficial for the farmers as they are drought resistant, require minimal inputs and have short growing seasons. As the above reference puts it quite succinctly- "They can provide nutritious grain and fodder in a short span of time."
The Organics & Millets 2018 International Trade Fair, creates a platform where farmers, academicians, manufacturers, consumers and culinary experts come together to promote and educate for a better and smarter food system. If you know that millets are the way forward but are not sure about how they can be a part of your day to day food, then this trade fair is for you. When I stepped into the exhibition area, I found many curious consumers asking manufacturers about their products, tasting samples and gathering information along the way. There were wide array of products catering to our food requirements and some interesting solutions for our indulgences as well. On day 1 of the fair, some of the food ventures spoke to me about their products and what they felt was the need of the hour for the consumer.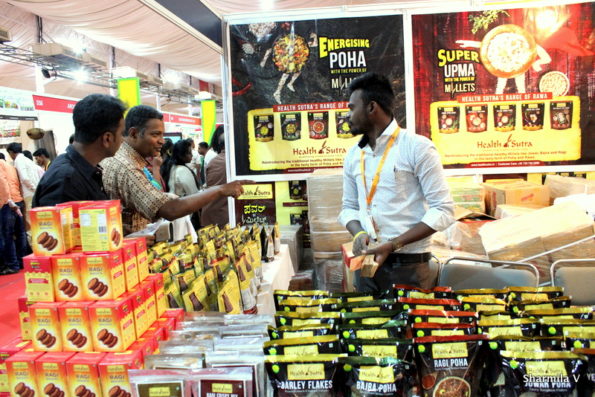 N.L. Mamatha is the founder of easybreakfast.in , a venture specializing in ready to cook millet based breakfast options. Easy Breakfast, true to the name manufactures millet based pongal, dosa and upma mixes among other easy breakfast packs. Their product "Millet Vita," is a health drink powder containing Foxtail Millet, Little Millet, Kodo Millet, Brown Top, Proso Millet, Barnyard, Pearl Millet, Finger Millet, and Jowar along with almonds, cardamom, green gram and horse gram. Mamatha says that consumers are now well aware of the importance of millets. "Our breakfast mixes are created such that the food can be prepared in 5-10 minutes. Products must be healthy, and at the same time, they must be easy to prepare for the busy schedules that people have nowadays. Our breakfast boxes contain packets of different mixes for a small preparation, ensuring minimal wastage. We also supply to restaurants and caterers." I asked Mamatha what consumers were asking them at the exhibition. "I think its no longer about awareness because consumers are aware. Their questions are more specific. They want to know which millet would be beneficial in what way. They also ask about methods of preparation. Many want to try out the samples, and when they realize that millets can be tasty and easy to prepare, they don't have second thoughts about buying our products. Millets are truly rocking," she adds smiling.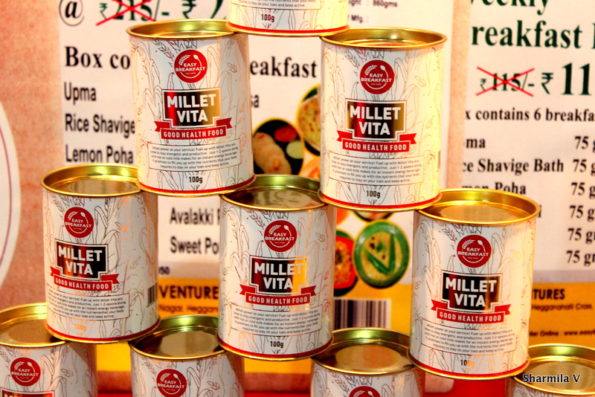 Similar to Easy Breakfast, Milleto by Adhi Surya Foods is trying to incorporate millets among our kitchen staples like chapathis and dosas. They also manufacture vada mixes which contain millets. Coming all the way from Pollachi, TN, S.V Elango of Adhi Surya Foods shares that exhibitions of this nature give their products the right exposure among potential customers. "We can tell our customers what we use to make our products, and since most people are looking for products that have healthy and organic roots, it makes a difference for us to be able to talk about them."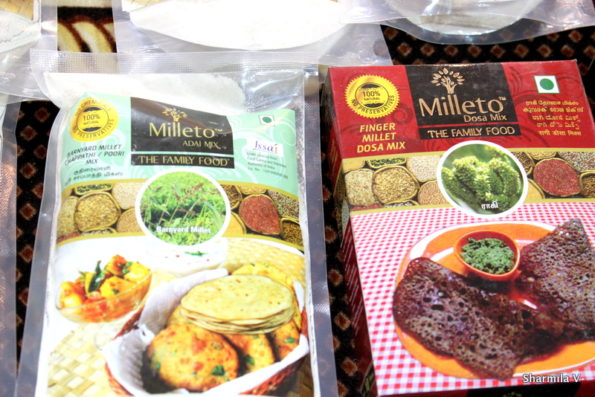 Karthik Damodaran representing Health Sutra shared that people now want to know how to efficiently use millets in their food, which is why they also share recipes along with the products. "People need healthy replacement options for their regular breakfast foods, but they also need "ready-to-eat" products. We manufacture biscuits and namkeens for the latter. We have printed out recipes for this exhibition as people frequently ask for them."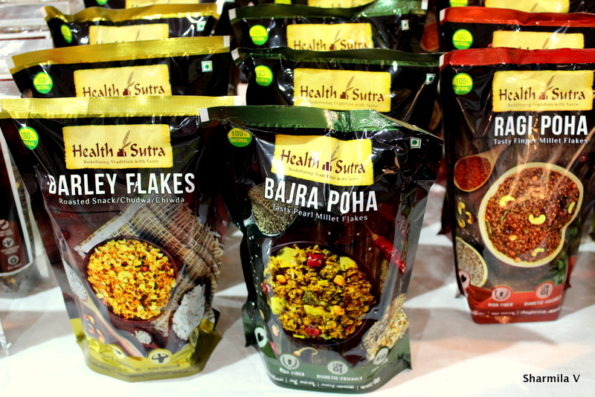 Founder of Sirimiri, Vijaya Rajan says that it is important to incorporate these healthy grains in our food, but at the same time, it is also important to ensure that these are products people of all age groups relish. Sirimiri manufactures mueslis, nutrition bars and health mixes. Their millet based mueslis are flavoured using natural ingredients such as almonds, raisins, pistachios etc. A trade fair of this nature, she says, brings them face to face with consumers, which plays an important role when they are trying to spread a message. "It helps raise awareness," she adds, "even if people don't buy the products right away, they understand what we are trying to do, and they definitely notice the ingredients and product types. Vijaya shares that they put a lot of thought into their products especially for their youngest customers. " Kids usually try to stay away from products if we tell them its made of millets. We spend a lot of time formulating these products because we want children to love them equally, and they do, which makes us very happy."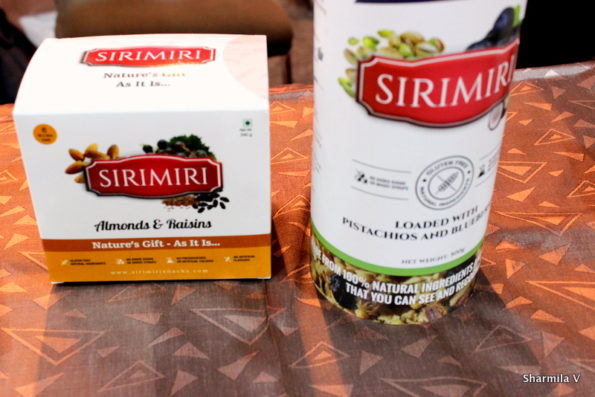 Similar to Sirimiri, Slurrp Farm is ensuring that infant food is not left out of the party. You can read the Slurrp Farm story here in The Yellow Turmeric. Founders Shauravi Malik and Meghana Narayan were at the trade fair with their cereal mixes and their delicious cookies. Ensuring that kids have the most fun while munching on millets, Slurrp Farm team also manufactures interesting combinations like Supergrains and Beetroot Millet Dosa Mix and Chocolate and Supergrains Millet Pancake mix.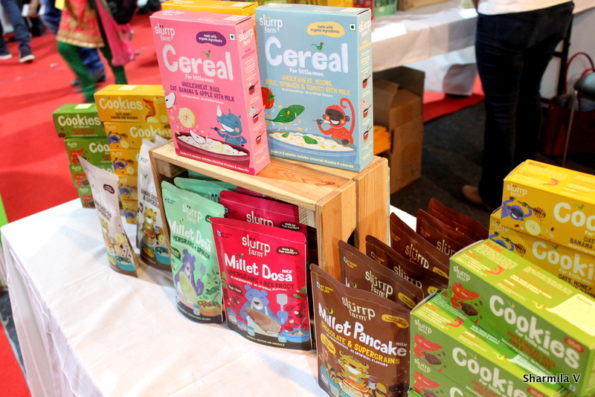 Yes, a little fun is highly recommended be it, children or adults. Kalpavruksha– a small manufacturing unit near Kanakapura makes millets fun by incorporating them in sweets and savouries. G.S Bindya representing Kalpavruksha at the fair said they use organic jaggery to make these sweets. She said a lot of people came to their stall doubtful about how the sweets would taste. But once they tried out the samples spread out by Kalpavruksha, they were convinced going the millet way was not going to be that difficult.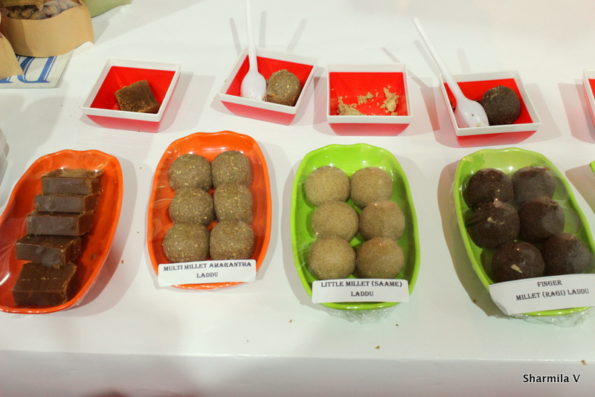 Native Foods from Chennai makes millet based noodles, flakes and dosa mixes. But their stall was not just about millets. They also had some interesting herbal rice mixes like curry leaves rice mix and balloon vine rice mix. These herbal powders can be added to hot rice along with a little oil, mixed and eaten. Native Foods manufactures cold pressed oil and ready to eat products like cookies.  Similar to Health Sutra, the team at Native Foods mentioned that most customers wanted to know methods of preparing millet based products and had queries regarding specific health benefits.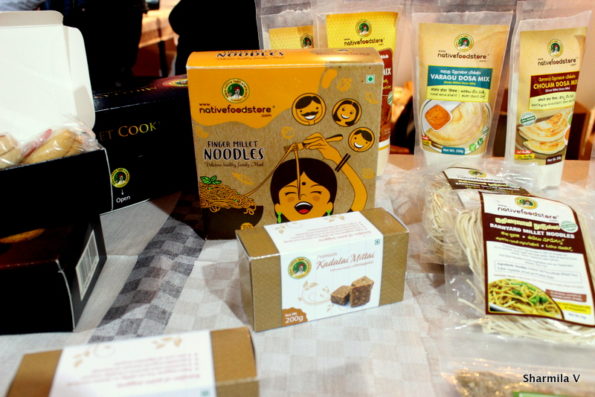 Apart from product stalls, there were also wholesale suppliers of organic grains and pulses. While product stalls had the most crowd, there was an equal interest in earthen and cast iron cookware.
Stepping away from the stalls, I asked a few people what brought them to the fair on a Friday morning. Priya Pramod and Shivani Chandok from Bangalore said they wanted to see the variety of products available. They shared that kid-friendly products definitely topped their list, but they were also hoping to understand how different millets can be used in making different dishes. With so many millet varieties available, they felt that consumers need clarity on specific millets, their use and benefits.
Sights and sounds from the Organics & Millets 2018 International Trade Fair
Click To Tweet
Dr.Rashmi from Bangalore shared that she is an ardent follower of such events that focus on healthy foods, trends and traditional recipes. Having attended the trade fair in 2017 as well, Rashmi added that there are much more stalls this year. Like Rashmi, a few others talked about looking for interesting new products keeping their health goals in mind. Ashok Admale from Bangalore spoke to me about the importance of increasing awareness among the next generation. He said that the younger generation must feel inclined to take up farming and work with millets to keep this millet movement going. His wife Sushma shared that bajra and ragi are common ingredients and people do use them routinely. She hoped the trade fair would give them more knowledge about other millet varieties.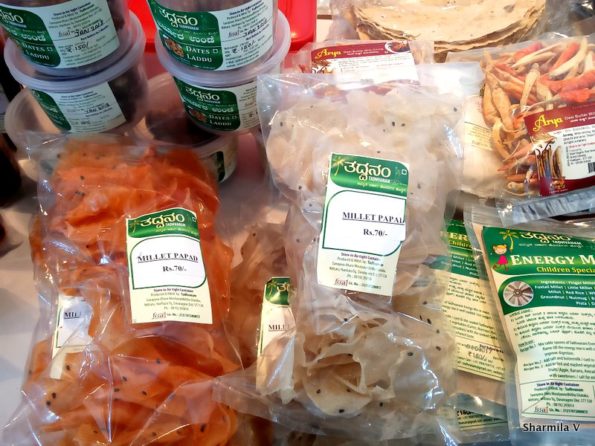 The food section was an experience in itself. From regular options like millet dosas, pongal, bisi bele bath and puliyogare there were also unique items on the menu like millet pizzas and millet aloo parathas. Ishta Cafe where I stopped for lunch said that their menu of millet pizza, appams and parathas among other combinations was designed to appeal to the urban population, thereby making millets exciting for them. Sure enough, many people stopped by their stall requesting for an order of the millet pizza or the chaat.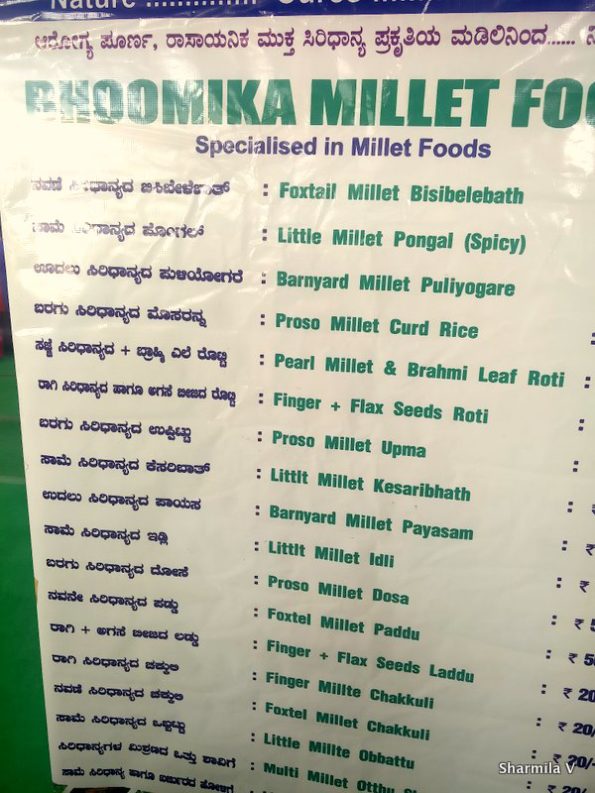 But the Millets and Organics International Trade Fair was not just about stalls, products and food. As I was walking around the food court, there was a panel discussing brewing with millets. There was another discussion scheduled for the evening on "Namma Nati Katha- Nostalgic Stories and Culinary Demonstrations on traditional foods of Karnataka" with MasterChef Shaziya Khan, storyteller and theatre artist Vikram Sridhar and an artist from the block printing studio of Tharangini . I asked Vikram Sridhar about how stories help connect the dots when we are trying to revive something which was a significant part of our plates in the past. " When MasterChef Shazia Khan was making payasam using millets I was able to narrate the story of the mysore pak. The gist of the story is that somebody from the palace was trying to make payasam, but it ended being mysore pak. In today's time we don't want direct information, because there is so much information out there, it becomes difficult to keep track. Stories are a great medium to convey the essence of these events in the right manner, and to connect the dots historically. The food plus the stories do create a lasting impact."
You will find more information about other talks and events in the trade fair website –http://organics-millets.in/.
You may also like.